In our Last Free Tools Series post, we uncovered how to spy on your competitor's Facebook and Instagram Ads. Today you will learn how to do the same for LinkedIn ads.
Why Use LinkedIn Ads?
LinkedIn is a great channel for building brand awareness and positioning your brand in thought leadership, and in some sectors it's useful as a lead generation tool too. It has a strong organic reach with many businesses using it for that reason alone. But it also packs some big benefits for advertisers in certain industries. Like other digital advertising platforms, you can get quite granular with your targeting, especially in the B2B sphere.
At Inspiration, we use LinkedIn as a digital marketing tactic for some of our clients and it works well for B2B businesses and those involved in the education sector.
Before creating a strategy, during the research phase, it's very important to know what your competitors and other companies in the sector are up to. With thorough competitor research, you are giving your business the best chance of success. And with the free tool we've identified below; you can get the insights you need to compete effectively via LI ads.
How to spy on your Competitors LinkedIn Ads?
Here's a step by step guide on how to spy on your competitors' LinkedIn Ads, and we are using Dublin Business School as an example, an educational organisation that competes with one of our clients – who themselves achieve very good results through LinkedIn (yes we manage that!)
1.Go to the LinkedIn Company Page of the company you want to spy on.
2.In the main menu, click on Posts
3. Once in the Posts section, you will see a submenu with the different types of posts. Click on Ads.
4. In this Ads section you will see all the LinkedIn ads, active and inactive, of the company you are spying on. You can identify these type of posts because they have the word Promoted under the name of the company, as well as the number of followers they have.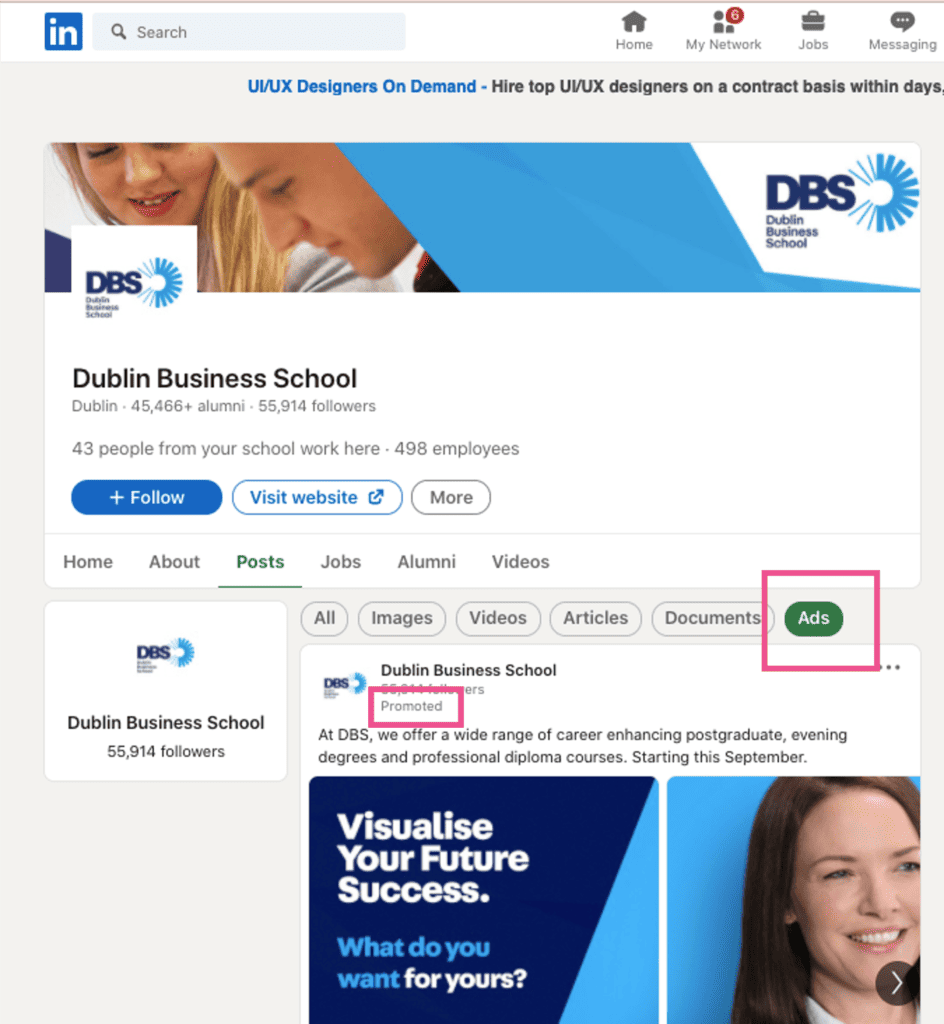 Easy right?
Now that you know how to do this, feel free to spy on all your competitors and get those creative ideas flowing!
And remember: they will never know that you have this inside information!
Need help with your Linkedin ads?
or
For the right business and done in the right way – LinkedIn Ads can be a powerful tool in your armoury. If you are looking for a digital marketing agency in dublin and beyond & would like to know more about making Linkedin Ads (and performance marketing in general) work for you – get in touch with us.