The latest version of WordPress is out now!
This is the first significant release in 2017 and it has arrived hot on the footsteps of the recent announcement that WordPress has  stopped supporting some older browsers. This new version offers some exciting functional options that have our web developers drooling!
Keeping your site up to date and running on the latest version of WordPress is not only important in terms of preventing website hacks – it also gives you a better user experience. Updating your blog, news section or content pages is now even easier and website admins have greater flexibility in using the platform, saving time and money. You'll also have some new and exciting features to try out – here's a few things to look forward to with WordPress 4.8…..
New Media Widgets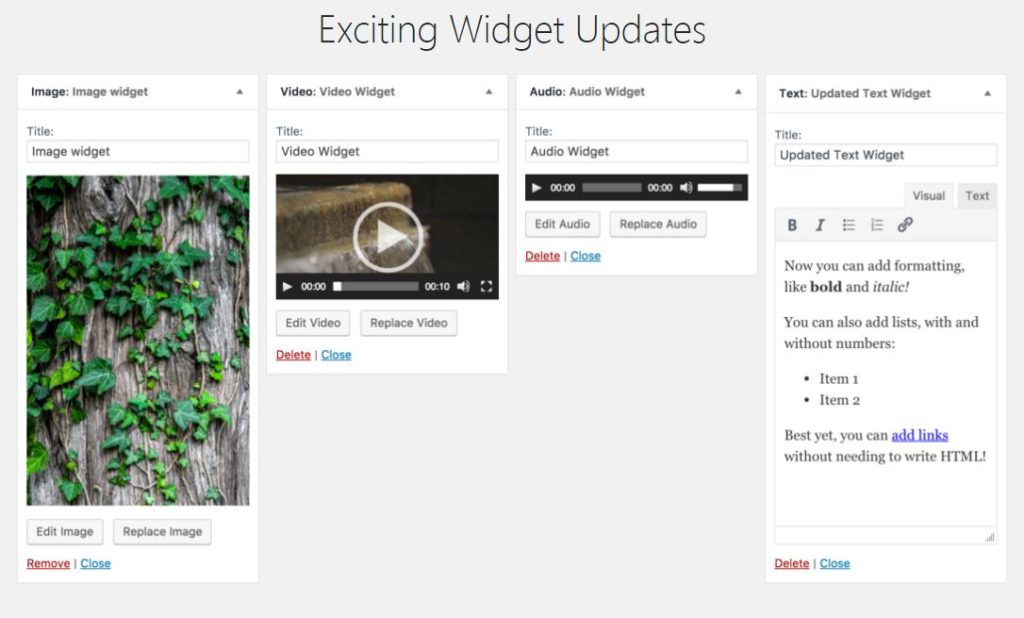 Web designers and WordPress users have been crying out for an update to these widgets for a long time and the wait is finally over! The new widgets reduce the number of extra plugins that are needed to improve the visual options inside the back-end area, helping your site run more smoothly.
We always recommend doing a full site backup before you do any significant upgrades to the backend of your site, either to plugins or to WordPress.
Occasionally implementing updates can cause site conflicts and performance issues. If you have a backup you can easily revert back to an earlier version.
If you're unsure please get in touch with us and we can take care of the updates for you.
Image Widget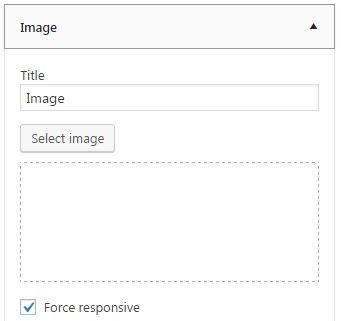 Until 4.8 it was a little cumbersome to add an image to the sidebar. Either a plugin had to be installed or a user needed to write some custom HTML code. The Image Widget lets you easily drag and drop the image widget into the sidebar and simply add the image.
You simply add the image the same way you would add one to your post, either by dragging and dropping or locating the file in your computer.
Remember to hit save to store your settings!
Video Widget
The new Video Widget works in the same way as the Image Widget and easily allows you to add videos or embed them from YouTube, Vimeo etc.
We recommend that you never upload videos to your WordPress site but rather embed them from the likes of YouTube.
This help to keep your site running nice and fast!
Audio Widget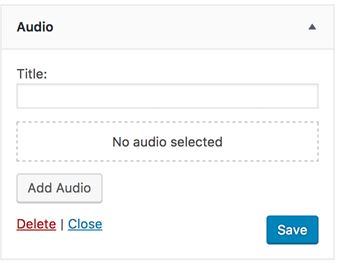 Again, the new Audio Widget works in the same way. Simply add the widget select the audio and away you go!
All the standard audio files are supported; MP3 and WAV.
Visual Editor Text Widget
In older versions of WordPress the text widget was simply a plain text editor that required you to add HTML even if you were carrying out basic formatting.
4.8 has upgraded the text widget and incorporated a visual editor which makes things a whole lot more user friendly!
It's basically a scaled back version of what you use to for adding text your blog posts, news or pages.
WordPress News and Events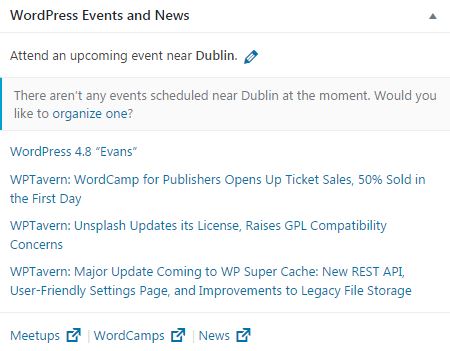 The News and Events widget appears in your dashboard screen when you login to the backend of your site. You can select the city you're based in and keep up to date with anything happening in the local area.
This week WordCamp Europe the biggest conference in Europe for WordPress developers is taking place in Paris. We're going to be keeping one eye on the live stream to learn more about the new updates and what's coming down the line.
Under the Hood – Web Developer Updates
There's a bunch of new changes for developers to get their teeth into but don't worry we won't bore you with all of that – best leave it to the techies!!
What's Your Plan?
Like the sound of WordPress 4.8? If you're in anyway unsure of keeping your site up to date we have a Monthly Maintenance Plan where we keep WordPress and all your plugins running the latest versions. We also ensure that your site is backed up before and after the updates are made. This way you have a safety net if anything goes wrong with your site – not only will you have a back-up; you'll have us to help out. We look forward to working with you.