Do you run an eCommerce site? But struggling to make the most of your SEO?
We have 23+ years' experience in website design and development. Over the years, we've implemented numerous successful eCommerce sites and related SEO projects.  We've also established a thorough process to ensure a robust SEO structure is implemented from the very outset of each project. When an effective SEO foundation has been implemented, it's easy to reap the benefits;
Higher website traffic
More effective digital marketing – SEO and Google Ads
Increased conversion rate
And ultimately, more revenue for you shop
In this post we reveal the secrets to our eCommerce SEO success. Intrigued? Read on to find out more and access our own SEO Checklist…. 
SEO Friendly Content Management System
The first step is to ensure the platform you are using is SEO friendly. There are tons of platforms on the market to choose from but not all of them have the capacity to provide the SEO structure needed and often they are not used in the right way by inexperienced developers.  The following issues raise an immediate red flag:
Page links (URLs) are not SEO friendly e.g. – /shainn887/uh7777ubjbjbn388y8
SEO Meta Data can't be edited e.g. title tags , descriptions tags
No sitemap functionality
eCommerce Platforms
We  can recommend the following eCommerce platforms:
Check out our WooCommerce Vs Shopify Comparison
Each of these platforms are generally SEO friendly for eCommerce sites.
(Note: at the time of writing: Shopify often defaults to generating multiple collection URL's for a single product – which isn't ideal but can be fixed. Here's the science bit for those inclined to read it – their default response is canonicalisation however canonicals are hints, not directives for Google. This can be remedied by editing the collection-template.iquid and removing the collection reference from the where hrefs are being generated. Got it?!
Mobile Marketing
Making sure you are optimised for mobile devices should be a given in your overall digital marketing strategy.  To ensure mobile marketing success, your eCommerce site should be designed using a  responsive web design approach. Alternatively (or in addition), you may also decide you need an App.
If you have an eComm store, its most likely that a large majority of your customers (and prospects) are mobile first. it's critical that your site is easy to navigate on mobiles to make it as easy as possible to transact on-the-spot.
Backlink Profile
This refers to other websites that link to yours. What kind of sites – and how many – link to your store? Backlinks influence your visibility in Google and the quality of those links is also important.
And  when it comes to product pages, assuming they're up to scratch with content and descriptions, often we find back-link authority – more so than any other ranking factor – can make a decisive. difference to google performance. Some of the best tools to assess your current profile & assess other backlink opportunities include
Ultimately, building these links takes time and ideally it would be part of your ongoing marketing process, which would also include content marketing, outreach programmes and and PR. And remember if you are transitioning to a new website; it's really important to not lose any backlinks that you have already gained. This is done by re-directing old links to the new ones. Although this is far from rocket-science, we have been surprised by the number of times companies have been let down by other developers in this respect. There's more on backlinks later.
Duplicate Content
Duplicate content is one of the most common tech issues we find with Online Stores. Often we find
The same descriptions featured in numerous categories and
Multiple versions of the same products for different sizes and colours (instead of variations for one product listing)
To prevent duplicate content issues use, at a technical level your developer can use:
Canonical Tags
Robots.txt file
No index tag
And make sure the CMS settings are not duplicating at category level.
The biggest offender is having same product in numerous categories – all of which generate different  links to your site (URL's).
**1 URL = No Duplicate Content**
Multiple pages for the same product becomes very problematic for search engines and ultimately leads to link dilution.
Thin Content
Make sure your website content is unique, relevant and in-depth. High quality content is one of the main ways you will have of outperforming competitors, as Google prioritises strong content in search results.
Screaming Frog Spider can be used to examine the word count & depth of your product, brand and category pages, btw. check out our other SEO free tools
A simple way to flesh out your content is to write a description for each page. This is particularly relevant for the higher volume searches that category and brand search queries bring. Check out this recent improvement in performance that we achieved for one eComm client, just by writing on-page descriptions and titles.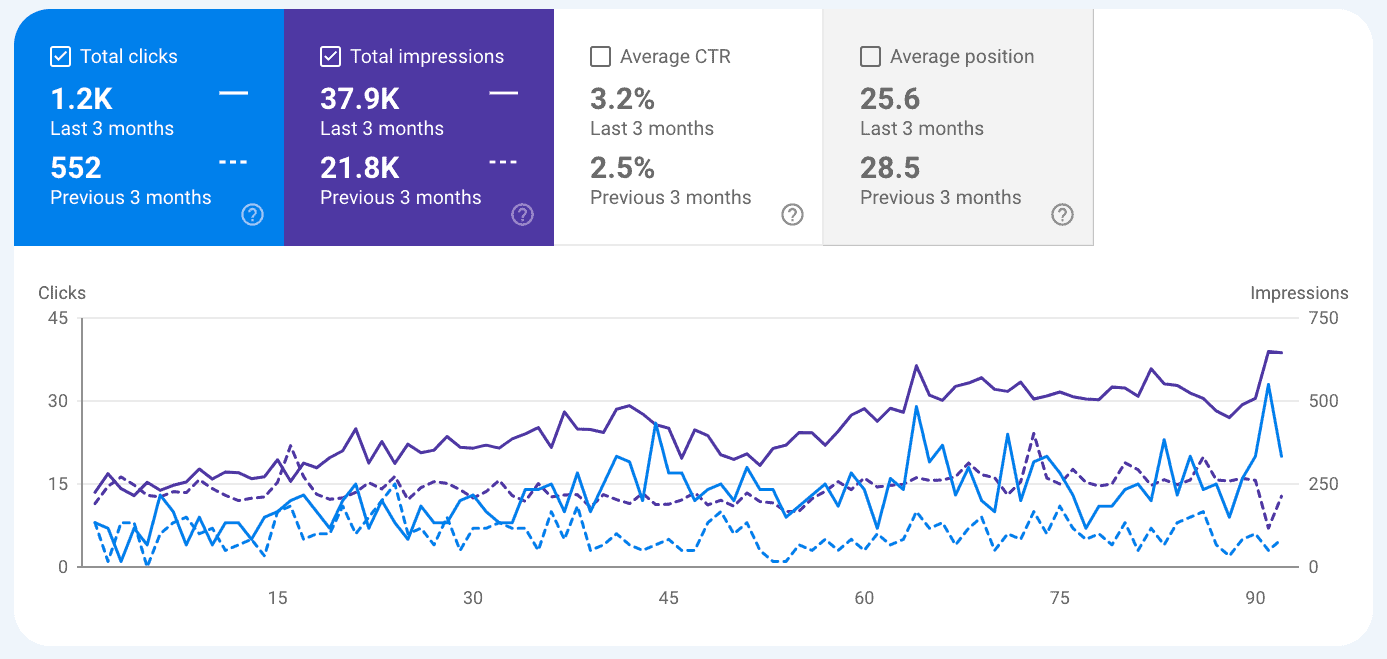 Keyword Research
Before you start developing meta data for your SEO titles and meta descriptions you should have researched a keyword list.  The keyword list will help inform the SEO structure for your home page, category pages, brand pages, products pages, URLs and all relevant SEO titles and descriptions.
What are the high intent keywords for the product pages? Would a phrase modifier be more effective for your category pages? Fortunately, there are many great free digital marketing tools for keyword research to help answer these questions.
This is important at the pre-launch phase. In the aftermath with content marketing – we recommend thinking more semantically and topically around your keyword research. Search Volume is not the only consideration then. Often the high intent terms might have low search volume. (Also, if you run Google ads – they can be a goldmine with conversion rate data in helping you choose great profitable keywords)
SEO Meta Data – Tagging
Meta data is information you can load into the back-end of your store to let Google know what your content is about. One of the most fundamental tasks for every eCommerce website is developing unique SEO titles and meta descriptions for each page on the website. Ensuring each page accurately reflects the theme of the page will help your website perform better in search engines and improve the click through rate from Google search results.
That means completing data – the title & MetaDescription – for every page. But that will take forever!?
Tag in Bulk – Use Templates
Fortunately, with most Content Management Systems (CMS's), you can scale this task. Yoast (a WordPress plugin) for example, allows you to write titles and meta descriptions in bulk. Check out the yoast variables which speeds up tagging considerably.  That said, you will still need to tweak a lot of pages individually – depending on what your keyword research tells you. But bulk tagging is definitely a good place to start if you've tons of products. You can refine it all over time.
**The title Tag & H1 Tag should be specific to the page Content.**
Also don't just blindly copy & paste the title tag into the main heading (H1).  The title is truncated in searches whereas you have a bit more room with the H1. Check out a recent SEO result we got for a client's brand page by just doing the basic tagging and fleshing out the page with a little extra content.
Pagination & Site Architecture
Your top Category & Brand pages should only be 1 click away from the homepage and the main menu navigation. Your top products should be only 2 clicks away. Therefore consider your pagination setup if  your top products are buried in the site architecture. It will be a lot easier to rank for a product that's 2 clicks away then 12 clicks.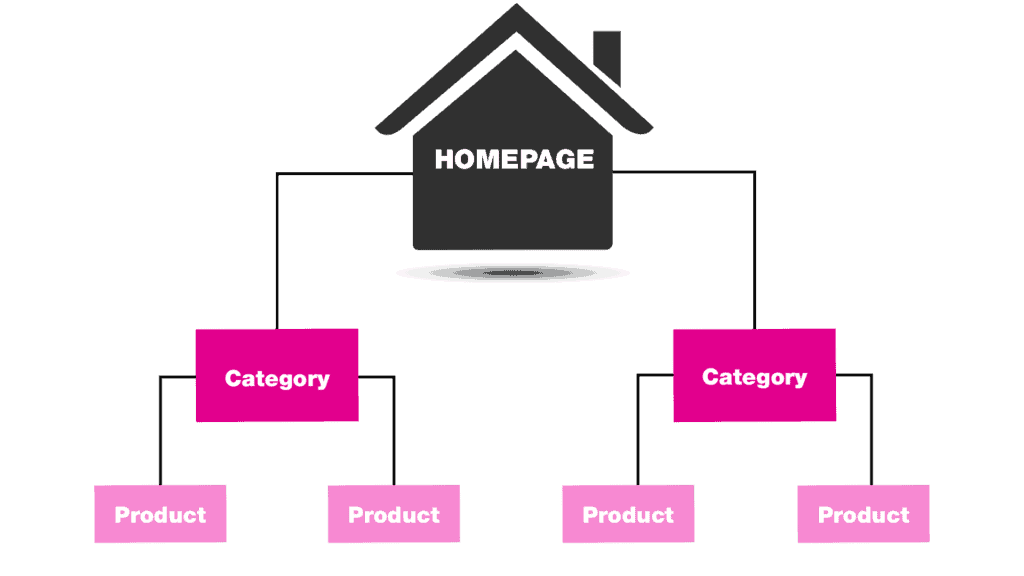 Home Page SEO
While the primary objective for the home page is to lead consumers into the buying process, typically through bestselling products and product category pages, SEO should also be a significant  consideration. We recommend:
Developing the headline text (H1 Heading) carefully
Using introductory text to intro. the brand and using top level keywords (confirmed by research)
Using top level keywords in image descriptions (ALT text)
Implement the SEO Title and Description
Use structured data mark-up
Have internal links to other key pages
Use strong copy and messaging. Best-Sellers? Current Promotions? Timely Events? Discounts? All for the Homepage..
Category Page SEO
The Category pages should include:
H1 Heading
Text introducing the category
Text should include relevant keywords
Banner image or video
Products listed early-on; underneath the top content area
Relevant SEO Title and Description
Product Page SEO
The product pages of an eCommerce website should include:
H1 Heading
In depth description of the product (Make it unique & original!)
Text should include relevant keywords -but again write naturally. No keyword stuffing.
Banner image or video
Products listed underneath the top content area
Relevant SEO Title and Description
Structured data markup (Thus is critical for getting those precious review stars in Google)
Social sharing buttons
SEO Friendly URLs
As the start of this post we discussed how SEO friendly URLs are a paramount for the long term success of your eCommerce website. If your content management system doesn't allow for SEO friendly URLs, we recommend changing to a system that does.
An example of an SEO friendly URL would be www.mywebsite.ie/category/product-name.html. Or if you know that a product could be in multiple categories – save yourself the duplicate content risk and go with just a unique product URL. For example www.mywebsite.ie/product-name.html (yes read these carefully!)
Internal links
The pages throughout your store should link together through internal links. Internal links help to provide customer journeys which will improve user experience.  They will also improve the SEO value of your website as the linked text (called anchor text) is used by search engines to determine the relationship between the keywords and pages of your website. This ties in nicely to site architecture and making sure linking structure is up to scratch.
Site Speed

Site load speed is essential for shopping carts. Consumers will often browse and comparison shop before they purchase. If your website is sluggish and takes ages to load – consumers wont hang around. Read our post on site speed testing to find out how to test your eCommerce site speed performance. (Search Engines love quick websites, and with Core Web Vitals – a good page experience is now an expectation).
Structured Data / Rich Snippets
Structured data is a way of organising data on your website specifically to make it easy to for search engines to index the pages. Most content management systems come with the required coding but some may need external plugins. make sure yuor developer is on top of this and that the platform accommodates it.
Implementing structured data can benefit your eCommerce website by:
Improving click through rates, through rich snippets (see below)
Keeping up to date with best practice SEO techniques
The following areas of an eCommerce website can be marked up with structured data:
Products
Reviews
Videos
Images
Breadcrumbs
Articles
Shop location
Example of product review rich snippets

To see if your page is eligible for those product review stars – test your structured data. Needless to say, this can make your results really stand out in search results.
Product Reviews can make your brand stand out in search and boost Click through Rates.
How to get reviews? Consider sending a follow-up email to customers a couple of weeks (maybe more or less – depending on product) and ask them for a product review. This looks great on the site itself (social proof is a pillar of persuasive marketing) and now you can help the product pop in search. This process can also be automated through your shopping cart.
Breadcrumbs
To help improve user experience we recommend using breadcrumbs on eCommerce websites. Particularly if your site has deep product level categorisation, it will help users navigate more easily.
Robots.txt File
A Robots.txt file can be used to prevent duplicate content issues by stopping chosen pages from getting indexed by search engines. Or a secondary step would be adding a no index tag to the pages themselves. This can be done in the CMS – so if you want site visitors to see the the same product pages in different categories but haven't set the structure up properly in the first place i.e. only listing each product once – this can be used as a work-around.
301 Redirects
If you are replacing an existing website with a new one, it's imperative that the developer uses 301 re-directs to ensure old pages get re-directed to new ones. If you have thousands of URLs this may be a lengthy process but it will guarantee that you maintain your current rankings and visibility in Google SERP's. We recommend that you re-direct the URLs page for page so that user gets re-directed to the most relevant products each time.
Here is the formatting of a 301 document:
Redirect 301 /oldproduct.html http://www.newwebsite.ie/new-product.html
Take care when developing your 301 re-directs as one extra space in a line may cause your whole website to break.
Redirects & Canonicals
Make sure redirects go to the canonical version of a page. A typical error are redirects (a directive in the eyes of google) going to a page, which then has a canonical tag telling Google (a hint) that another page is the page you want to rank.
Let's break that down a bit more. What is a canonical?
Basically, a canonical is a tag used for duplicate content issues (2 or more identical pages). This tag (rel="canonical") is added to the source code of a page. And essentially, the canonical tag tells search engines that a specific URL (or page) represents the master copy of a page. So, by adding the canonical tag to a duplicate content page – you are telling search engines that the master page (that the canonical is pointing to) is the main page you want to rank. You specify what page you want to rank.
However, if you send redirects (a directive) to a page with a canonical (a hint) pointing to another page, it's contradictory signals. You are directing to Page A but but Page A is saying not me – Go to Page B.
And your overall SEO performance dips for the page you want to rank. In other words, everything should be aligned.
Htaccess File
Once a developer has created the 301 re-directs, they will need to be added to the .htaccess file. The file is uploaded to your root directory when the new website goes live.
Sitemap
While it's not essential submit your sitemap to Google Search Console before a new site goes live, it's a good idea to test it. The end result of your sitemap.xml file should be a full list of every page on your website. Once it goes  live, the developer should submit your sitemap to the relevant search engines. Also remember to have a sitemap link in the footer of the homepage – besides potentially being useful for search engines to crawl your site in certain circumstances, people often use sitemaps to navigate the site if they cant find what what are looking for easily.
Setup Google Search Console, Google Analytics
What doesn't get measured, doesn't get managed. To understand how your SEO is performing, and critically to help inform the relationship between organic traffic and revenue – here's some stuff to get set-up. You will need Google Tag Manager to do a lot of tracking as well (not just sales – think email signups, call & email clicks etc). At Inspiration, we provide monthly reports to our eCommerce clients to assess just that – we agree what are the "conversions" and these are tracked. Often where there are retail branches as well as an online store, it's useful to track how many calls to each branch.
Final Words: SEO is a worthwhile eCommerce Investment
If you're in business for the long-haul, and you want to build long-term, scalable traffic and revenue – it is essential to invest in strong SEO practices and ideally upskill your team.
Are you thinking about launching an e-commerce website? Why not talk with our team and get expert advice before you go live?