In this post we outline some SEO tools and SEO tips which you will find invaluable in your optimisation work. These SEO tools will help you address common questions. How well is my website performing? Are we generating leads and new business from my SEO work, AdWords, content marketing? What elements of my digital marketing are delivering? Is there anything within my online presence that is holding our performance back?
There is so much information and data out there it's hard to see the wood from the trees. So how do you go about making sense of all this data? Inspiration Marketing use the following SEO reporting tools to support its client SEO work
Dash This – https://dashthis.com/
SEO Profiler – http://www.seoprofiler.com/
Moz – http://www.moz.com/
Screaming Frog – http://www.screamingfrog.co.uk/
Page Speed Test – https://developers.google.com/speed/pagespeed/
(Please note – first port of call each month is to log in and check your web master tools account to ensure Google is not flagging any issues which need to be addressed)
Dash This
To make sense of your SEO (search engine optimisation) efforts you need to understand your website traffic statistics – where are my visitors coming from, what are they doing when they land on my website, did they email or phone us? To gather this data you should ensure that your website design company has firstly set up a Google Analytics code and account for your website (UA code).
If you have logged into Google Analytics you will know how confusing it can be. There is simply so much data. What do I need to know? The DashThis SEO tools can help to distill all your Google Analytics data into actionable information.
Having set up a dashthis account you can give it access directly to your Google Analytics. You can then easily pick from a selection of SEO reporting "widgets" what you want to report on in your dashboard. It's so easy to make sense of all the data!
SEO Profiler
As an SEO agency the SEO Profiler is one of the most useful SEO tools for analysing the different elements of our clients' website performance. It can also be used by non SEO companies who have the required skillsets and resource available in house for implementing effective search engine optimisation strategies. In summary key features include
Ranking monitor – rankings results for target keywords. Show you the performance of your keywords across relevant search engines
Website SEO Audit – should be used in conjunction with your monthly web master tools review. Used for onsite audits looking at Robots.txt, spelling mistakes, server errors, broken links, duplicate internal content.
Website Analytics – this is where you hook up Google Analytics account and get various views and reports on the data
Link Profiler – analysing backlinks. We recommend you use the back link feature in conjunction with both Web Master Tools and other tools like MOZ openside explorer. No one tool seems to give comprehensive set of backlinks
Social media – analysing social media data
Page Optimiser – similar to Rank Tracker in MOZ. Useful to highlight areas on a page that need to be addressed. Also includes a schema creator similar to Web Master Tools
Keywords – finding keyword opportunities. We recommend though you use Goggle keyword planner for SEO keywords as its more accurate.
Competitor Spy – useful if a competitor is running AdWords campaign and you wanted to analyse it
Customize Reports – allows you to generate / schedule customised reports.
Moz
Moz is a very useful, powerful and trusted SEO reporting tool. Again it's pricing is pitched at professional SEO agencies and SEO companies but it can also be used by non digital marketing companies who really take their SEO work seriously inhouse.
Some of its key features include
Openside explorer – you can analyse the backlinks of your own website and those of your competitors. Pay particular attention to you back link profile as it could be hurting your website performance.
Freshwebexplore = online mentions useful for reputation and brand management
Rank tracker – keyword ranking for a page or domain in google by country
Keyword difficulty – allows you to find top 10 ranking websites for a particular keyword (useful to refine specific pages including landing pages)
Crawl Test – useful to diagnose issues with pages on your website – missing meta titles or meta descriptions , broken pages requiring 301 redirects , other errors à very similar to screaming frog reporting tool
Followerwonk – used for finding twitter users and growing your twitter audience
Moz analytics – allows you to set up a number campaigns for tracking the above areas over time
Screaming Frog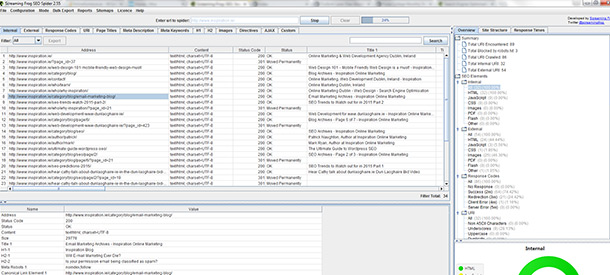 As SEO Tools go this parcticularly useful for getting a good overview of a website structure and how well it's onsite optimisation has been done. It lists all the webpage URL's and identifies the SEO Meta Data for each.
Page Speed Test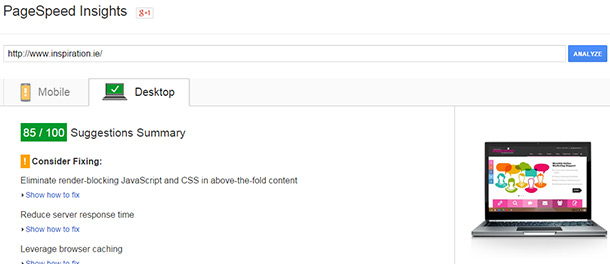 Use this SEO reporting tool https://developers.google.com/speed/pagespeed/insights/ to measure the performance of a website page for mobile devices and also for desktop / laptops devices. The reporting tool effectively fetches the URL twice. It will highlight coding issues which need to be addressed to improve both the user's experience and also to improve overall website speed on different devices. Read here why these are very important factors.