Are you actively posting regular fresh content on your website? If you are then great – big round of applause. Now are you posting that content in a way that will give you the optimal SEO | Search Engine Optimisation benefit. Will that content drive relevant traffic to your site from Google's organic search engine? Don't know well then read on ……….
Go to www.google.ie and type in the keyword phrase 'International Search Engine Optimisation'. You might find one of our blog posts https://inspiration.ie/international-search-engine-optimisation-guide/ near the top of the organic listings (position 1 at 13th July 2015).
The question is why does this post appear higher than the others for that search and how can I give my content pages and blog posts the best chance of a similar high positioning for related searches?
There are a myriad of factors which give rise to Google's organic search results. Here we deal with one of the most important – Effective onsite on page SEO | Search Engine Optimisation. WordPress is the Content Management System and Yoast the SEO plug-in we refer to below but the onsite SEO on page tagging principles apply equally across all CMS platforms.

Why the key term "International Search Engine Optimisation"
First start with your customer. Inspiration's client base are typically exporting Irish SME's. They need to reach customers overseas via the internet. We felt that International SEO | Search Engine Optimisation would therefore be a topic of interest. But would this key word drive traffic to Inspiration's website from organic search. A quick check using Google's keyword planner within its AdWords interface confirmed some small niche but highly relevant searches were made monthly for this term.
Choose topics for your blog which will interest your customers and potentially drive organic search traffic!
Key Principles to Good Onsite Search Engine Optimisation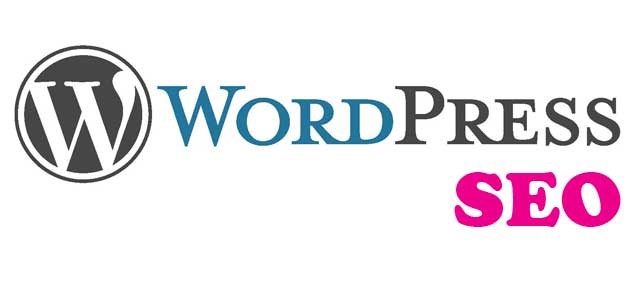 The following are the guiding principles for optimising any webs page
Set a keyword focus for the page. In our case "International Search Engine Optimisation"
Use the keyword / key phrase in any subheading (such as an H2) in your copy.
Aim for a keyword density (number of inclusions within page content) of circa 2% à 6 inclusions per 300 words of content. Only a guideline!
Make the content easy to read. Where possible use short sentences and bullets.
Include the keyword / phrase in the URL for the page.
Include the keyword in the page title. Position the keyword at the beginning of the title tag.
Tag the image alt tags on the page contain with the keyword / phrase.
Include links to outbound 3rd party authority websites where possible.
Include the keyword in the first paragraph of the copy ideally at the very start of the content – google likes primacy.
Include keyword in the meta description tag
Construct this meta description tag to entice visitors to click through to your website as it's this meta description that appears in the organic search results 'snippet'
Include at least 300 words of content on the web page.
Try not to use the same focus keyword on multiple pages on your website
Step by Step Guide on Optimising Webpages for Google Organic Search Results
Create the new Page for International Search Engine Optimisation
Go to WordPress SEO by Yoast section of the web page directly underneath the content section. Type the keyword focus in this case 'International Search Engine Optimisation' into the Focus Keyword box. You will now see the Red (bad) + Green (good) onsite SEO messages below. We will work on these as we go through the rest of the on page optimisation.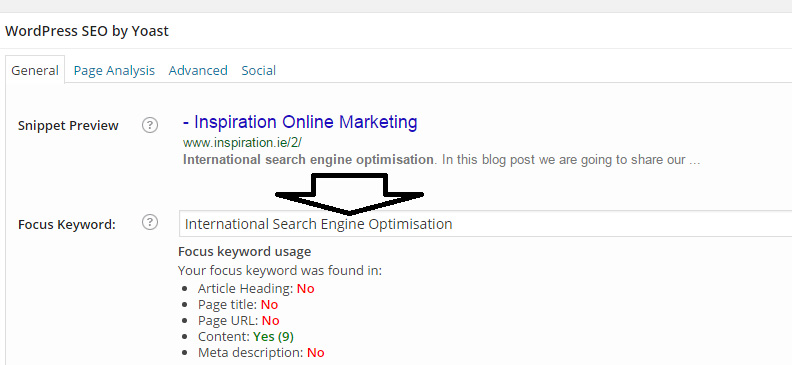 Next put the keyword into the page title and also edit it into the page URL. Arrows below indicate where to edit the page. Save page as Draft as you go through to make sure your edits are saved.
Next edit the SEO Title & Meta Description fields with the target keyword focus. The SEO Title is a key element within Google's search algorithm. The Meta description is not an algorithm factor but more a marketing message. It needs to contain the keyword though, be compelling or entice click throughs and ideally have a separate call to action in this case Call 01 230 3184 today . Make sure you keep within the recommended character limits for both these Meta tags.
Note also the Snippet Preview within the image below. This is how this page will initially appear in Google's organic search results pages.   Note also that my red (bad) flags below have all turned to green flags as I have applied good onsite page optimisation techniques which Yoast has validated and confirmed.
Now click on each image within the body content and edit tag them with appropriate key terms. In this case below the image relates specifically to our main key word focus and therefore I have put that term into the alternative text and the image title boxes as below. This is what we refer to as image tagging. Make sure you hit update to save edits

Finally look at the top right hand side of the page just above the Publish Button. Are you seeing at least a green dot to indicate the page is well optimised? Click on the "Check" button to the right of the green dot and you can get prompts and messages to do further on page SEO | Search Engine Optimisation refinements. If you have time then make these otherwise have a last review and publish the post.
Now rather than wait for Google to find your page on its next Indexation visit you can get this page directly indexed immediately via your web master tools interface. Use the Fetch as Google function under Crawl Options. Type in the URL into the appropriate box, hit Fetch and then submit to Google Index. This page now has an opportunity to appear in Google's search results.

Contact us For SEO
Please get in touch with a member of our team – we're SEO mad!!