You might have noticed that your phone isn't really a phone anymore. Just as you were getting used to carrying a tiny phone around with you everywhere it's now turned into a tiny computer.
And it's not just phones. Is that a book you were reading? Nope. It's an e-reader. That laptop you were using, what happened to the keyboard? Oh, it's a touch-screen tablet is it?
While it might leave some of us feeling like recently defrosted cavemen there's no denying how incredible it all is. And when it comes to business these technologies open up a host of new opportunities.
Our brave new world is not without its challenges though, particularly when it comes to web design. Creating a site that adapts to each of these different devices needs a fair dash of nuance and a big dollop of knowhow.
That's where responsive web design comes in.
Look
The most obvious difference between devices is appearance. We've all seen un-optimized sites on mobile that are just shrunken versions of their desktop site. Unless you've trained your hamster to surf the web, you aren't going to spend long on a site like this.
A responsive web design means no more stretching and squeezing a page, zooming in and out to look at different parts. Responsive websites use modular page elements reorient them to better fit within the screen of the device you are viewing it on.
Check out this interactive graphic showing how responsive web design works.
Touch
Whipping out your smartphone on the train to check the news is a great idea. Whipping out your keyboard and mouse to plug into it doesn't work so well, especially when you use the lap of the person next to you as a mouse mat.
Luckily we have the next best thing to a mouse and keyboard. Actually we've got ten. But even the slenderest and most dexterous of digits will have trouble pressing the right button on a miniaturised navigation bar. Browsing a website shouldn't feel like you're playing a game of Operation.
A responsive website detects you are using a touch screen device then presents relevant info and links in a more suitable touch format. Navigation Links will expand into chunky buttons so that even the most bumbling of thumbs can get around.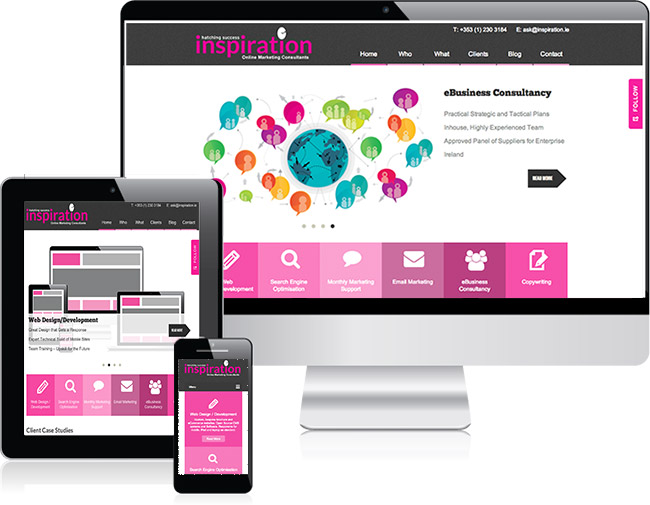 Check out our own Inspiration website on your mobile or tablet and see how it responds to the device. Touch works much more intuitively without all the pinching and scrolling you get with non-optimised site. You can even resize your browser window to see how the site responds to display size.
…Taste?
Maybe taste isn't the right word but really getting into the meat of a website means consuming its content. To do that, the content needs to be easy to digest.
That means text and images need to scale appropriately in response to the device they are being viewed on. Considering how fonts and images will scale is important in designing a responsive website.
Mobile Rising
The fact is, we are all using the internet on a much wider range of devices than ever before. Mobile web traffic is already at 14% and it's set to keep growing especially as 4G networks are rolled out across Europe.
Responsive Web Design means you're not preventing potential customers from accessing your site just because they're using a smartphone or a tablet. Mobile users could turn out to be your biggest customers.
Coming Soon: The Future…
If you are excited by how many ways can access the internet now then you've got a treat in store. Smart Television is already with us but its going to get closer and smarter and create a whole new set of potential visitors for websites.
There's also a new generation of consoles on the horizon that promise to further integrate your living room with the internet.
And when you check your watch to see if it's the year 2020 already don't be surprised to see a smartwatch looking back at you.
Responsive Web Design intelligently adapts websites to the device it's being viewed from, however big or small it is, whatever kind of interface it uses.
What do you think about Responsive Websites? Share your thoughts or ask us about it in the comments section.