Have you heard of Google+ authorship but are still unclear why and how to use it? In this guide we are going to explain the benefits of setting of Google+ authorship and give you step by step instructions on how set it up. Let's get started.
Why Google+ Authorship
Google+ authorship is a way of telling Google that you are the author of a piece of content. It adds credibility to your content and builds authority for yourself as a publisher.
Other benefits of setting up Google+ authorship for your content include:
Receiving a higher click through rate for your content as users are more likely to click on results with photographs.
Content is deemed more trustworthy if you have registered it with Google.
Opportunity to grow your Google+ circles as search results are connected to your Google+ profile.
What Does Authorship Look Like?
After you register for Google+ authorship you will notice that your Google+ profile photograph appears beside your search result.
The enhanced search result will receive an improved click through rate and give you more opportunities to grow your Google+ circles.
How to Set Up Google+ Authorship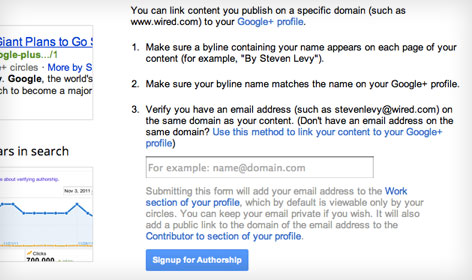 Do you have a Google+ profile? If no, your first step will be to set up your profile. You can do that here.
Next, you will need to fill in your profile information and add a high quality headshot.
Either link your content to a verified Google+ email address or set up authorship by linking your content to your Google+ profile. Google gives specific guidelines on how to do this here.
To test whether your Authorship is set up correctly you can use the structured data testing tool.
The results will indicate whether or not you have set up Authorship correctly. Your result should look like the screen grab above. If you see red text instead of green that will be in indication something is configured incorrectly.
As your authority as a registered Google+ author grows you can monitor the clicks and impressions your content receives. Simply login to Webmaster Tools and surf to Author Stats area under the "Labs" section.