In a recent press release LinkedIn announced the retirement of the product and services tab on company pages. The tab will be completely removed along with its content on April 14th 2014. So, what next for your company page?
Hello Showcase Pages
In the same press release LinkedIn outlined alternatives to using the products and services tab. The first was to use the news feed on your company page. As the screen grab below indicates you can use the update feed to share content, photographs and video with your followers.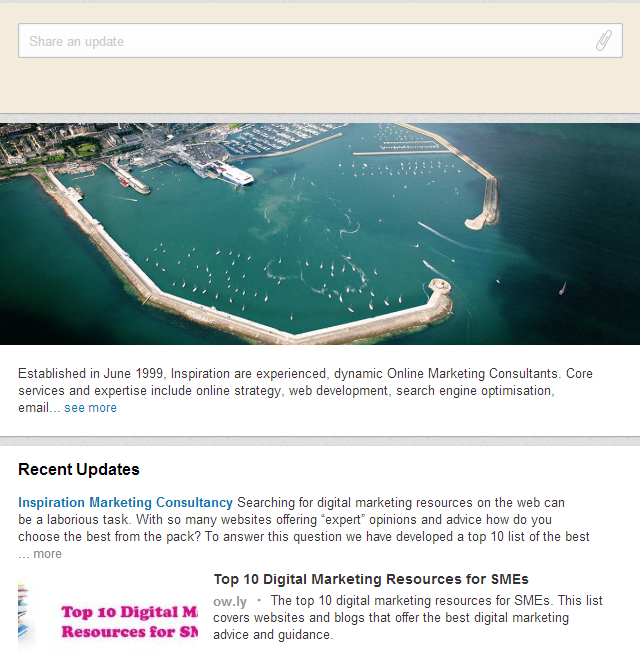 The news feed is easy to use and can be compared to the functionality on the Facebook or Google+ news feed.
Showcases pages was the second alternative outlined by LinkedIn. Showcase pages are an extension of your LinkedIn company page. The purpose of the page is to highlight a particular brand, product line or service that you provide. The page lets you build a community around the brand, product line or service and to syndicate news that is specific to that area.
You can see an example of Inspiration's own Showcase page initiative in the image below. We decided to dedicate our Showcase page to International Online Marketing as we deliver a range of services to exporting Irish companies.  The aim of the page is to provide valuable content resources and guides in the area of International Online Marketing for exporting Irish SME's. You can follow the page here.
How to set up a Showcase Page
It is relatively straight forward to set up a Showcase Page. Simply follow the steps below:
1. Identify business areas that need a Showcase Page
2. Click the "Edit" menu on your Company Page. Select "Create a Showcase Page."
3. Now you're ready to start sharing your content.
The deadline for the removal of products and services pages is April 14th 2014. If you have a brand, product line or service that suits the Showcase format we recommend that you implement the new feature without delay. It is another avenue to connect with your target market and highlight niche areas of your business.
If you need help to get it done please contact us in our Dublin HQ.