The Snapshot
Social media needs to be managed effectively to gain any commercial benefit
You are unlikely to be able to dazzle on every social media platform
Find out which social media sites your target market interacts with most
Post concise, engaging and relevant content – and post regularly!
Use social media to build your brands online authority
There is now a multitude of social media sites that you can use to connect with current and prospective clients. However many companies are still unsure of the most appropriate social media platform for their business.
There is no straightforward answer. In most cases certain platforms will be more appropriate the specific target market. And its worth working out which one to use as any business trying to compete in today's inter-connected global market place needs to engage with social media in a constructive way.
We think that Scott Levy gives some great advice here when he states that; "most people and companies can't be amazing on every platform…instead of having a sub-par representation in a lot of places, be awesome on a few of them."
How Do You Choose the Correct Social Media Sites for Your Business?
As part of your overall digital marketing strategy you have probably developed a 'buyer persona' or profile of your target customers and this gives you a good place to start identifying the correct social media platforms to engage with. This infographic from Social Barrel displays the age demographic among the most widely used social media sites.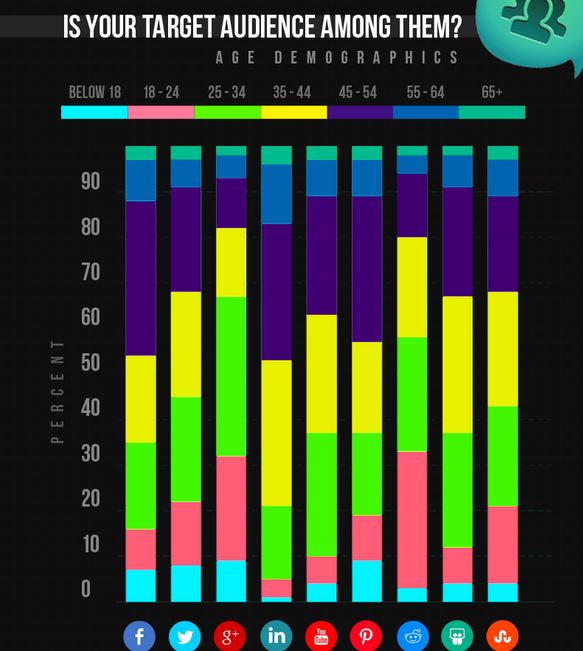 Another key question that needs to be asked before resources are allocated to maintaining social media accounts is what business objectives do you want to achieve from the interaction?
This infographic was created by Social Barrel and effectively highlights what social media sites are more effective for a variety of different objectives.

The initial research should be conducted by every company prior to starting social media campaign activity. This groundwork will help you in the long run to establish a much more targeted and successful social media strategy.
Once you have selected the social media platforms that you want to engage with, you need to remember the following rules:
Only curate and create content that is relevant to your target demographic
Ensure that you post content regularly (at least 2-3 times per week)
Retweet, repost, and share quality content
Include some kind of Call To Action (CTA)
Every social media platform requires a slightly different approach. This info-graphic created by
My Clever Agency highlights the best ways to post content on Facebook and Twitter. This is an example of the level of detail needed to use these particular social media platforms effectively.


Tools That Can Help You Manage Multiple Social Media Accounts.
Social media management software such as HootSuite enables you to share content across multiple social media platforms with a single update. HootSuite also lets users:
Analyse social media campaign statistics
Schedule social media sends
Monitor interactions with users
Any company that is serious about improving its current level of social media engagement should be using software such as HootSuite.  In fact, there is a wide range of other software resources that can help you manage the way in which you use social media. Some of these include:
Using tools such as these will make your social media strategy much more effective in the long run.
Are You Sold on Social?
As always at Inspiration HQ, we want to know what you think. Have you identified the social media sites that your target market is active on? Or are you still in the process of working it out?
Please do connect with us on Google + or LinkedIn and let us know how you are getting to grips with social media.
Alternatively, you can pick up the telephone, and contact us in Dublin today.